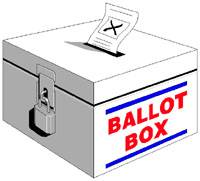 Election Myth—I should vote where I am going to college.
Not unless you consider the location that you are going to college to be
your residence
.
Can I work as a poll worker?
If you are 17 and a citizen—Yes. Not all states offer young people this opportunity. Idaho does!
"A student may be appointed, notwithstanding lack eligibility to vote, if the student possesses the following qualifications: (1) Is at least seventeen (17) years of age at the time of the election to which he or she is serving as a member of an election board. (2) Is a citizen of the United States."
The Secretary of State encourages students (17 years and older) to take advantage of this opportunity to serve as a poll-worker in an actual election. Contact
your County Clerk
and ask to serve.
Poll Workers are paid for their time.
Your student organization can use this opportunity as a fund-raiser.
An opportunity to use your computer expertise to assist people with disabilities to vote
A ballot marking device is available in each polling place to assist persons with disabilities to vote privately and independently.  Ask your county clerk how your computer expertise might be used to help voters with the AutoMARK ballot marking device.
Official recognition for civic participation.
Principals, Teachers and County Clerks - If you would like to recognize a student or student(s) for serving as a poll worker, please
contact us
for a letter of appreciation for the student's file or college application packet.