The Great Seal of the State of Idaho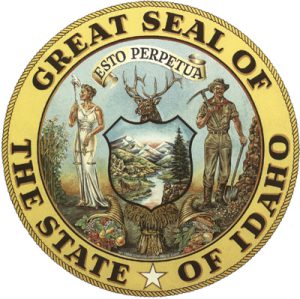 The seal was designed by Emma Edwards Green, the only woman to design a state seal. The translation of the Latin motto on the seal, 'Esto Perpetua' is 'Let it be perpetual' or 'It is forever.'
In 1957, the thirty-fourth session of the Idaho legislature authorized the updating and improvement of the Great Seal in order to more clearly define Idaho's main industries — mining, agriculture and forestry — as well as highlight the state's natural beauty. Paul B. Evans and the Caxton Printers, Ltd. were commissioned to revise the seal. This painting by Paul B. Evans officially replaced the original design by Emma Edwards Green and is designated as the "Official Copy." The official Great Seal of the State of Idaho can be seen in the office of the Secretary of State.
Instructions For Use of the Great Seal
The seal should be displayed in good state, without alteration, and should not convey the impression that the product or services are state authorized, sponsored, or endorsed.
Earlier Versions of the State Seal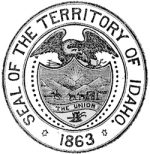 Seal for Idaho Territory - 1863
No official record remains of the adoption of the first Great Seal of Idaho when it became a territory in 1863. The design is attributed to Silas D. Cochran, a clerk in the office of the Secretary of State.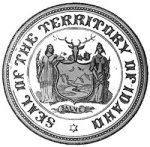 Idaho's Final Seal Before Statehood - 1890
Dissatisfaction with the official seal caused Governor Caleb Lyon to present a seal of his own design which was accepted by the Idaho Territorial Legislature on January 11, 1866. This, too, was controversial and was redrawn several times. Nevertheless, it was used until Idaho became a state in 1890.