Health Care Directives

Fill out the Idaho Health Care Directive Registry Form
This authorizes the Secretary of State's office to file your documents in the Idaho Health Care Directive Registry.
Attach your Living Will and Durable Power of Attorney Documents
Although it is not required, it is recommended that your Living Will and Power of Attorney for Health Care be witnessed or notarized.
Mail or deliver the completed Registry form, along with your Health Care Directive to:
Idaho Secretary of State
Attn: Health Care Directive Registrar
PO Box 83720
Boise ID 83720-0080
There is no charge to file your document.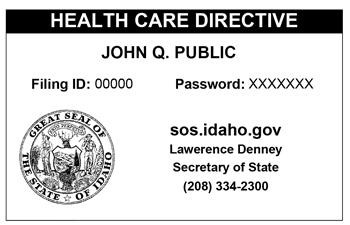 Within 10 working days, you will receive a packet by mail containing:
a wallet sized registration card with your individual filing number and password on it
further information about using and benefiting from the Health Care Directive Registry